---
Written by: Todd Martin, Kileen Independent School District (ISD)
Three teams tied to Killeen ISD schools are competing this week among more than 3,000 students statewide in the 17th annual National Archery in the Schools Program state tournament at the Bell County Expo Center.
For the second year, the Harker Heights High School Junior ROTC fielded a team. They participated in a Wednesday flight.
Teams from Reeces Creek and Nolanville elementary schools are scheduled to shoot Thursday.
Sixteen Harker Heights High School archery team members took part in the six competition rounds.
Senior Floyd Baldon was excited to be back at the state event.
"It's been tremendous growth," he said, noting that the Knights' team has grown in popularity in three years of existence and individuals have improved their scores.
"Some who were having difficulty early, improved and achieved their personal best," he said.
"It's very fun," said Baldon. "It's a big mental sport. It challenges you. The big challenge is to stay consistent."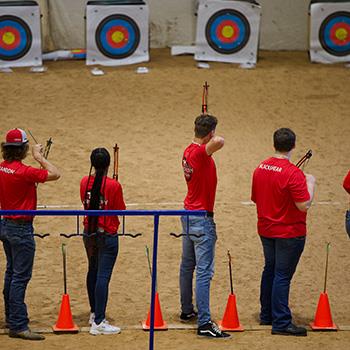 Following an unscored practice round, each participant gets three chances shooting five arrows at 10 meters and at 15 meters.
Experienced archers learn to make small adjustments to improve their shooting and work to perform consistently every round.
Junior Ashley Jackowski, also shooting at state for the second year, said the close-knit team practices before and after school to improve and goes to competition at least once a month.
"You learn to focus more, in archery and in other activities," she said. "We work as a team and as individuals."
Top teams and top individual shooters in various age ranges advance to the national tournament.
Jackowski said she learned a lot from JROTC leadership students a year ago and now is among the team leaders.
Harker Heights JROTC instructor retired 1st Sgt. Joe Flores said his team works diligently to be competitive at a high level.
"The biggest part I see is self-awareness," said Flores. "They do a lot of self-reflection and make corrections. I've been very pleased with that."
The team is led by students like Baldon and Jackowski who hold leadership positions on the team.
"It's just another avenue for our kids to excel," Flores said. "It helps with focus and teamwork. You don't have to be the strongest or the fastest. You just have to learn to focus, use fine motor skills and practice."
Posted scores show Harker Heights finished third among 10 teams in their category.